The Stable Suite – Casual Sophistication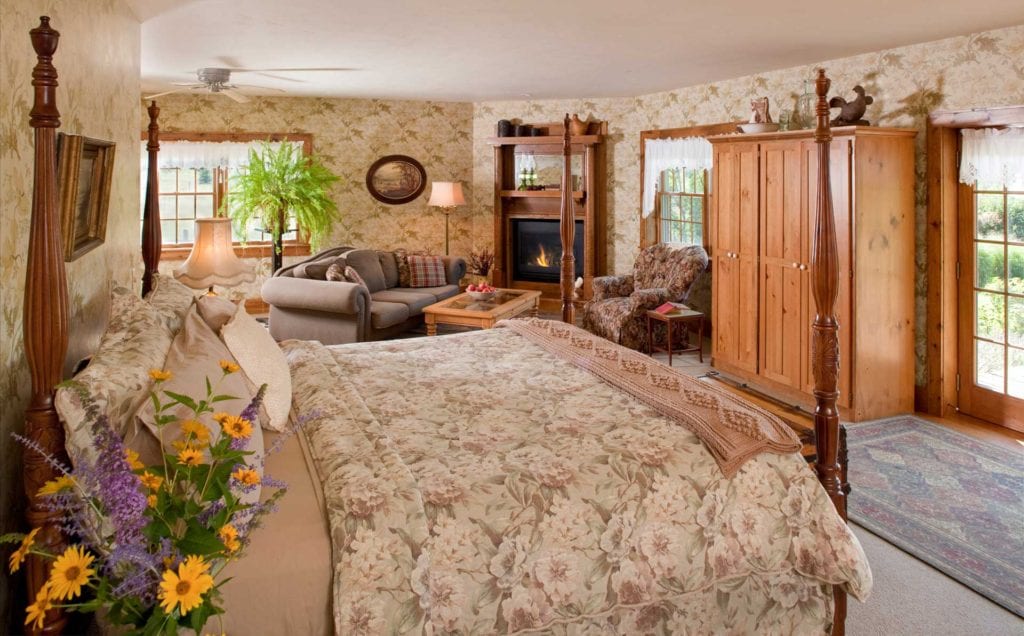 In this "Room Spotlight" series of posts, we go into the details of each of our amazing Door County Cottages, Cabins, and Suites at The Chanticleer. This series will allow you to get to know each of our rooms and what makes them unique, and help in your decision as you book your stay. 
When we began the intensive remodeling project of the original Barn at our Door County Bed and Breakfast, we had a vision for a truly unique suite that allowed our guests to bring the beautiful Door County outdoors inside, while allowing for private and comfortable accommodations. The challenge was to create a room that was cozy during the harsh Door County winters, but open and airy during our amazing summers. When we opened the doors of the Barn and made The Stable Suite available to our guests, it was clear that we nailed it!
We call it "Casual Sophistication". It means that design of this suite pays homage to the history of the building – with quarry tile and old barn board walls – there's also an elegant sophistication to the decor, in the form of a four poster, king sized bed, a camel-backed sofa, and a bow-backed tapestry chair. Beyond that, the details of local antiques and carefully chosen decor artifacts are an endless source of wonder for our guests.
You won't have to leave modern amenities behind in this suite, though. The raised, double whirlpool tub, convenient gas fireplace, and entertainment center ensure that you have plenty to keep you busy during cold winter nights and lazy summer days alike. While we love The Stable Suite for those winter getaways, it is truly amazing in summer, when you can open the double french doors, and invite the outdoors inside with a private terrace surrounded by a lush, lavender and rose garden. The Stables will want to make you stay forever!
Check Availability for the Stable Suite.
Take a Virtual Tour of the Stable Suite: