The Rose Room – Elegance On Two Levels!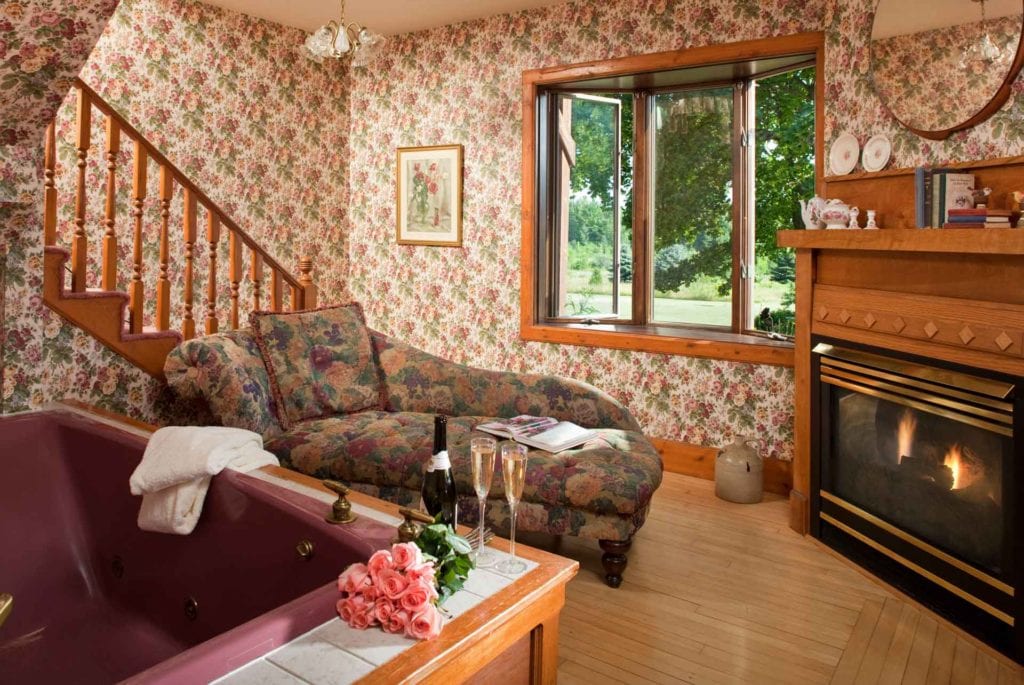 In this "Room Spotlight" series of posts, we'll go into the details of each of our amazing accommodations at The Chanticleer. This series will allow you to get to know each of our rooms and what makes them unique, and help in your decision as you book your stay. 
We utter words like "unique" and phrases like "one of a kind" often when we describe our accommodations. The reason is that each and every one of our suites, cabins, and cottages have their own special kind of magic, and are unlike anything else we – or any other Door County Bed and Breakfast – offer. When it comes to uniqueness, The Rose Room is top of the list. The two elegant levels of this suite offer a living space that is not only gorgeous and amazingly cozy, it's fun!
The Rose Room offers an experience like a tiny two-story house away from home. Downstairs is a truly relaxing environment – whether you take advantage of the double whirlpool tub or fainting sofa, be sure to light the gas fireplace and let all your cares fade away. The upper level welcomes you to a lovely bedroom with a queen sized, antique, high-backed bed. Just beyond is a lovely, raspberry-colored bathroom and adjacent sun-filled dressing room. Next to the bedroom are a private entrance and terrace, which overlook a sun-filled flower garden.
The Rose Room offers a spacious, yet private experience with plenty of unique features, and close access to the outdoors no matter the season. On your next visit to Door County, don't miss this one!
Click Here to check Availability for The Rose Room
Take a Virtual Tour of the Rose Room: