The Loft Room – Great Accommodations With An Amazing View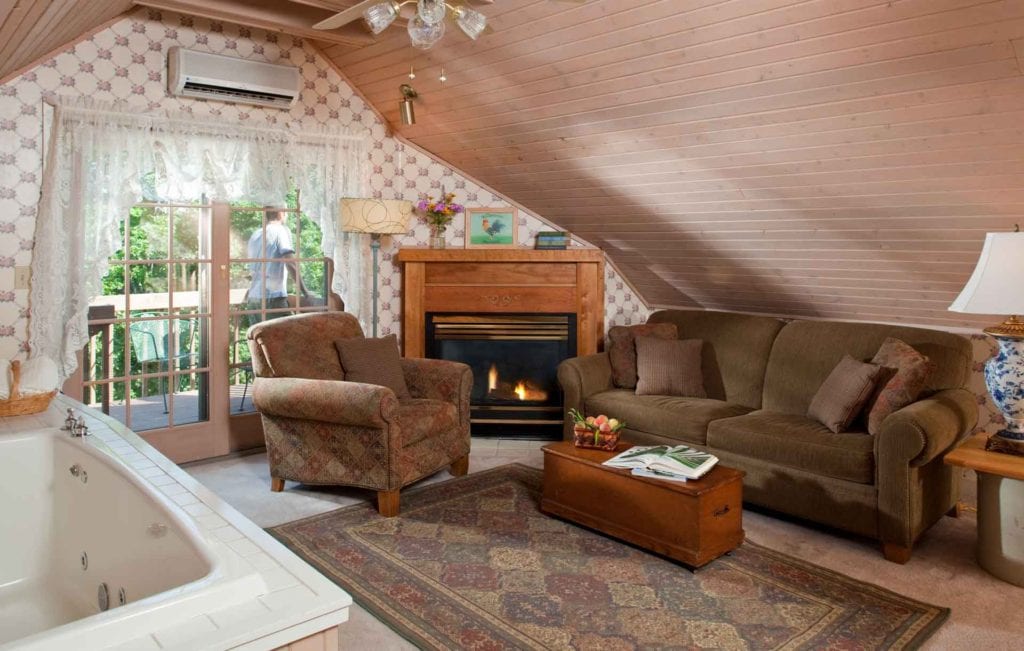 In this "Room Spotlight" series of posts, we go into the details of each of our amazing Door County Cottages, Cabins, and Suites at The Chanticleer. This series will allow you to get to know each of our rooms and what makes them unique, and help in your decision as you book your stay. 
High on top of our 1916 Guest House sits a great room with lots of charm and personality. The Loft Room exceeds expectations and redefines what a Door County Bed and Breakfast can offer. When we rehabilitated this old building 25 years ago, we envisioned this former attic space as a cozy getaway with more than enough amenities to surprise and delight even the most discerning guests.
The bisque pine vaulted ceiling frames the space and creates a unique bedroom hideaway feel, while offering a double whirlpool tub to relax in. The built-in queen sized bed and plush furniture tuck into the walls nicely, adding to the cozy feel but still offering plenty of personal space to relax. The bathroom is so large and bright, it almost seems impossible in this 3rd floor space, and double french doors add an elegant touch. Private, bright and airy, the Loft is a one-of-a-kind suite!
Check Availability for the Loft Room.
Take a Virtual Tour of the Loft Room: