The Sunflower Suite – Perfect For Spring in Door County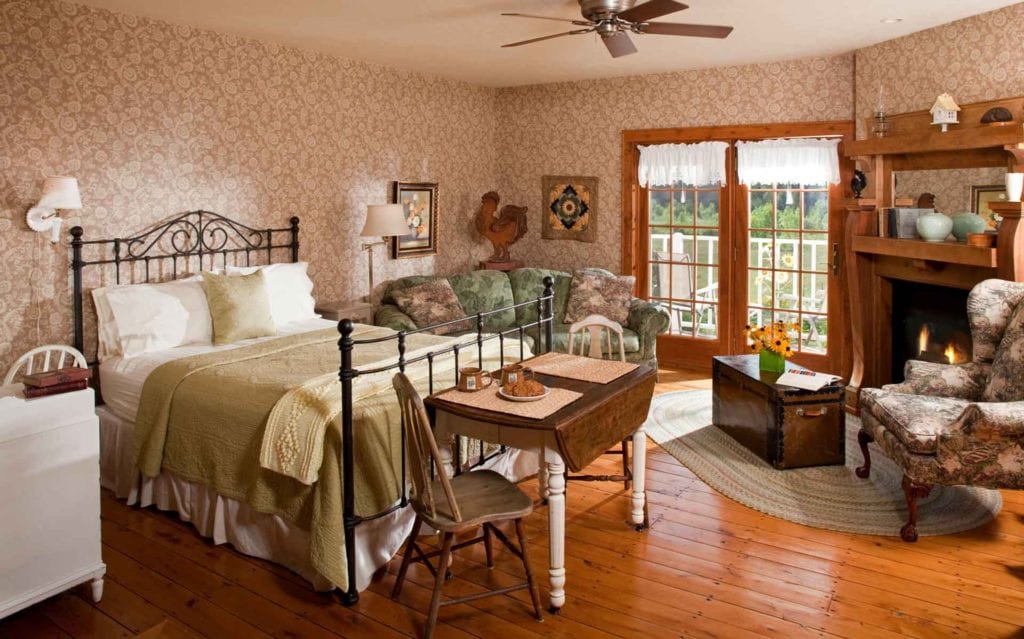 In this "Room Spotlight" series of posts, we'll go into the details of each of our amazing accommodations at The Chanticleer. This series will allow you to get to know each of our rooms and what makes them unique, and help in your decision as you book your stay. 
The Chanticleer's Guest Barn building, which was completely restored and converted to guest accommodations in 1996, is something we're really proud of. The lobby area greets you with a cozy fireplace and comfortable seating, along with our great collection of period antiques and other rotating season decor. You'll immediately notice our attention to detail and the love and care that was put into the rehab of this building. Take the staircase to the second floor and turn left, and you'll enter one of the coziest suites in our Door County Bed and Breakfast, the Sunflower Suite.
This simple, no-nonsense suite is perfect for a spring stay. An airy, bright atmosphere, with rustic, floral decor keeps you in a relaxed state of mind. French doors and a private terrace let the warm air in, and a gas fireplace and double whirlpool tub keep you warm during cool Door County evenings. From the terrace, you get a breathtaking view of our grounds, allowing you to enjoy a beverage while watching the sheep graze peacefully.
The Sunflower also boasts a beautiful antique iron bed, a private bath and shower, a TV/DVD player, a small refrigerator, and more. Like all of our rooms, suites, cabins, and cottages, you'll get our great homemade breakfast delivered to your door every morning. This sunny, comfortable suite is meant for a no-frills, easy getaway, and perfect for enjoying the spring in Door County.
Click here to check availability for the Sunflower Suite
Take a Virtual Tour of The Sunflower Suite