The Grand Suite – A Perfect Stay Anytime Of Year!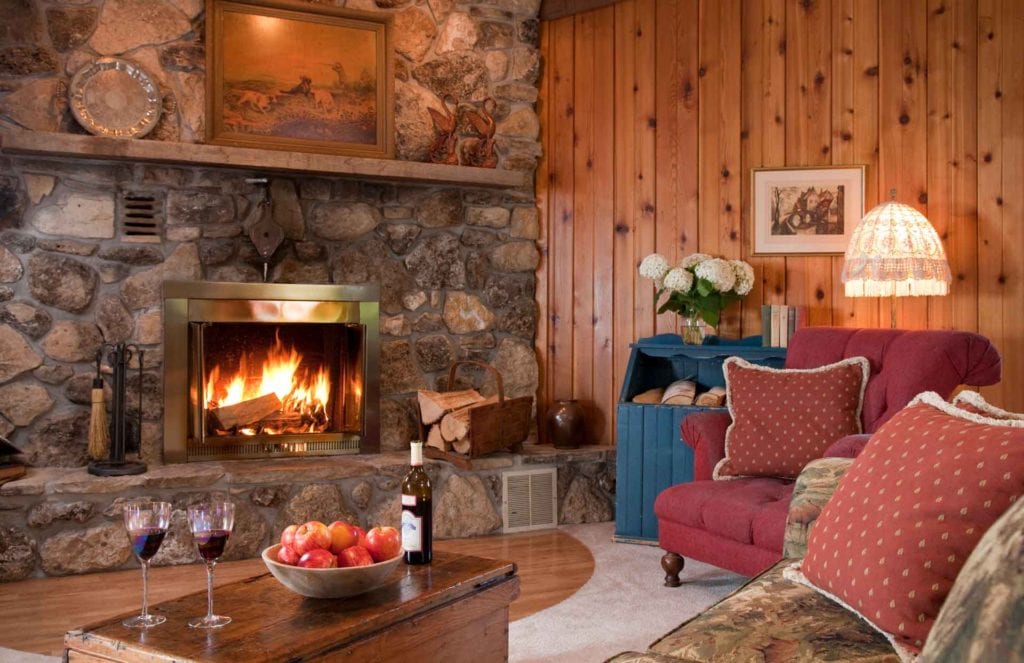 In this "Room Spotlight" series of posts, we'll go into the details of each of our amazing accommodations at The Chanticleer. This series will allow you to get to know each of our rooms and what makes them unique, and help in your decision as you book your stay. 
The Grand Suite
The largest of our Guest House rooms presents an open floorplan and ground-level access, combined with unique amenities that make it a great choice for all seasons. The Grand Suite is located in the Guest House, and is easily accessible to those who wish to avoid stairs. Entering through the Guest House lobby area will first present you with The Grand Suite's spacious bathroom, with a large vanity with chair, as well as an enormous tile and glass block shower. Farther down the short hallway, you'll take one step down into the massive open floorplan of the main room, with its private sleeping area adjacent to a roomy-yet-cozy living area.
The centerpiece of The Grand Suite is the massive stone fireplace. This feature will serve you well during the winter months, keeping the large room warm and cozy, but is also great to sit around during cool nights during the warmer months. Thoughtfully decorated with plenty of local antiques, The Grand Suite also features a large double whirlpool tub and an upright piano. Enclosed in a pine armoire (and otherwise out of sight), are an entertainment center with TV, Blu-Ray player, and iPod dock, as well as a refrigerator. Slide open the large patio doors to step out onto our pool deck, with a private deck and sitting area – perfect for pool parties, or just soaking up the summer sun or evening air.
We can't decide whether The Grand Suite is better for cold weather or warm weather, we just know it's among the best our Door County Bed and Breakfast has to offer for guests who like to have some room to spread out and get comfortable. But don't just take our word for it, take a look for yourself below!
Click here to check availability for The Grand Suite
Take a Virtual Tour of The Grand Suite